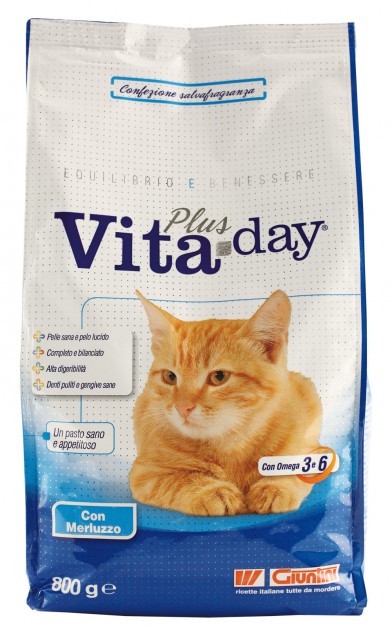 VitaDay Plus with fish
Complete feed
for adult cats
VitaDay Plus is a tasty complete food for cats with the correct balance of all the nutritional elements that are indispensable for the balanced growth and maintenance of your cat.
A constant use will ensure that your cat is in perfect health with shiny fur and full of vitality
Feeding instructions
The food may be served dry direct from the bag, or moistened with water or lukewarm milk. Always leave a bowl of fresh clean water available for your cat.
Calculate the recommended daily intake
Calculate the recommended daily intake for your cat, it is fast and easy.
Composition
Cereals, Meat and animal derivatives, Derivatives of vegetable origin, Vegetable protein extracts, Fish and fish derivatives (Cod min. 4%), Oils and fats, Yeast, Minerals.
Analytical constituents
Crude protein 31,0%; Crude oils and fat 11,0%; Crude fibres 2,3%; Crude ash 8,4%; Calcium 1,4%; Phosphorus 1,1%; Sodium 0,4%; Fatty acids: Omega 3 0,4%; Omega 6 2,6%.
Nutritional additives
Vitamin A 21.000 U.I./kg; Vitamin D3 900 U.I./kg; Vitamin E: 100 mg/kg; E2 Iodine 0,8 mg/kg; E6 Zinc 19,0 mg/kg.
Technological additives
Antioxidants.
Sensory additives
Colouring agents.
Available sizes
Sacco alluminio salvafragranza da 800 g
Palletizing
32 carton with 8 pieces = 204,8 kg
EAN codes
EAN 8011789606828
---