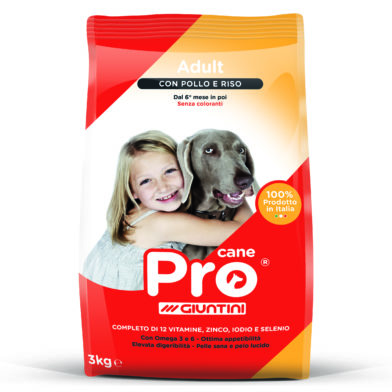 Pro Cane with chicken and rice
Complete food for adult dogs
from 6 months of age
Pro Chicken and Rice is a complete food for dogs, highly palatable and nutritionally balanced, with protein from chicken.
Due to its optimal energy balance, this diet meets the nutritional requirements of all dogs from 6 months of age, living either indoors or outdoors.
The inclusion of linseed and whole soya seeds, which are rich in Omega-3 and Omega-6 oils, helps maintain excellent skin and coat condition.
Feeding instructions
This food is formulated for feeding dry, with plenty of fresh clean water provided separately.
Calculate the recommended daily intake
Calculate the recommended daily intake for your dog, it is fast and easy.
Composition
Cereals (Rice min. 4%), Meat and animal derivatives (Chicken min. 20%), Oils and fats, Derivatives of vegetable origin, Seeds (Whole soya beans min. 1%, Whole linseed min. 1%), Yeasts, Minerals.
Analytical constituents
Crude protein: 26,0%; Crude fat: 16,0%; Crude fibres: 2,0%; Crude ash: 7,0%; Calcium: 1,3%; Phosphorus: 1,0%; Sodium: 0,3%; Fatty acids: (Omega 3: min. 0,42% - Omega 6: min. 3,7%).
Nutritional additives
Vitamin A: 22.000 I.E./kg; Vitamin D3: 1.400 I.E./kg; Vitamin E: 220 mg/kg; Vitamin C: 100 mg/kg; Vitamin B1: 7,5 mg/kg; Vitamin B2: 7,3 mg/kg; Vitamin B6: 5 mg/kg; Vitamin B12: 0,1 mg/kg; Biotin: 0,15 mg/kg; Niacin: 33 mg/kg; Calcium D-Panthotenate: 11 mg/kg; Folic Acid: 1,4 mg/kg; 3b201 Iodine: 0,8 mg/kg; 3b606 Zinc: 20 mg/kg; 3b8.10 Selenium (Organic form of Selenium produces by Saccharomyces cerevisiae CNCM I-3060): 0,1 mg/kg.
Technological additives
Antioxidants.
Available sizes
3 kg and 15 kg alluminium bags with re-sealable inside slide
Palletizing
3 kg: 30 shrink- wrapped bundle with 4 bags = 360 kg
15 kg: 24 bags = 360 kg
EAN codes
Codice EAN 3 kg:   8011789606699
Codice EAN 15 kg:   8011789606682
---