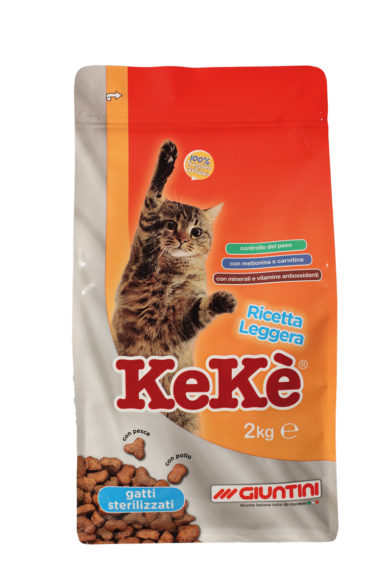 Kekè Sterilizzati Ricetta Leggera
Complete feed
for adult sterilised cats.
Kekè Light Recipe has been formulated specifically for sterilised cats of all breeds that are prone to weight gain.

This special recipe has added methionine to help acidify the urine for optimum urinary health, along with carefully selected fibre to reduce calorie content, and carnitine to aid metabolism and avoid weight gain whilst promoting lean muscle maintenance. Kekè Light Recipe supplies nutrients of high biological value, and is highly digestible. The tasty kibbles, with chicken and fish, are crunchy, crumbly and easy to chew, with top palatability.
This diet is also recommended for more senior cats, due to the high content of antioxidant elements, minerals (zinc), vitamin E and Vitamin C.
Feeding instructions
Can be served dry, straight from the pack. Always allow access to clean, fresh water.
Calculate the recommended daily intake
Calculate the recommended daily intake for your cat, it is fast and easy.
Composition
Cereals, Meat and animal derivatives (Chicken min. 10%), Vegetable protein extracts, Seeds (whole soybean seed min. 2%, whole linseed min. 1%), Vegetables, Derivatives of vegetable origin (Crude fibre concentrate from natural lignocellulose min. 0,5%), Fish and fish derivatives (min. 4%), Oils and fats, Minerals.
Analytical constituents
Crude protein: 33,0%; Crude fat: 9,0%; Crude fibres: 3,5%; Crude ash: 8,0%; Methionine: 0,8%; Calcium: 1,4%; Phosphorus: 1,0%; Sodium: 0,3%; Fatty acids: (Omega 3: min. 0,4% - Omega 6: min. 2,9%).
3%
Nutritional additives
Vitamin A: 20.000 I.E./kg; Vitamin D3: 1.000 I.E./kg; Vitamin C: 70 mg/kg; Vitamin E: 130 mg/kg; 3b201 Iodine: 0,7 mg/kg; 3b606 Zinc: 16,8 mg/kg; Carnitina: 70 mg/kg.


Technological additives
Antioxidants.
Available sizes
2 kg Plastic bag
Palletizing
2 kg: 30 Shrink-wrapped bundle with 6 bags = 360 kg
EAN codes
EAN 2 kg:   8011789500638
---