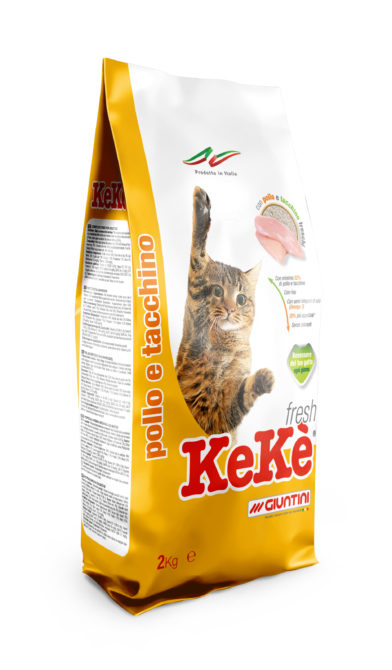 Kekè Fresh Chicken and Turkey
Complete food for cats
Kekè draws on its experience to present Kekè Fresh: the development of a traditional Giuntini product for cats that now includes fresh ingredients.
Only carefully selected raw ingredients and fresh chicken and turkey meat are included in the new Kekè Fresh Chicken and Turkey to give your furry friend a complete and balanced feed enriched with whole flaxseed, a natural source of omega 3. This product contains 32% of Chicken and Turkey, no colourants and it is 30% more palatable *than the traditional Kekè products.
Feeding instructions
This food is formulated for feeding dry, with plenty of fresh clean water provided separately.
Calculate the recommended daily intake
Calculate the recommended daily intake for your cat, it is fast and easy.
Composition
Meat and animal derivatives (min. 32%, Chicken and Turkey freschi min. 7%); Cereals (rice min. 4%); Vegetable protein extracts; Oli e grassi; Seeds (soia integrale min. 4%); Minerals.
Analytical constituents
Crude protein: 34%; Crude fat: 16%; Crude fibres: 2%; Crude ash: 8%; Calcium: 1,5%; Phosphorus: 1,1%; Sodium: 0,3%; Methionine: 0,6 mg/Kg; Taurine: 2.000 mg/Kg.
Nutritional additives
Vitamin A: 20.000 I.E./ kg; Vitamin D3: 1.300 I.E./kg; Vitamin E: 200 mg/ Kg; 3b201 Iodine: 0,8 mg/Kg; E6 Zinc: 20 mg/ Kg; 3b8.10 Organic form of Selenium produces by Saccharomyces cerevisiae CNCM I-3060: 0,1 mg/Kg.
Technological additives
Antioxidants, Preservatives.
Available sizes
2 kg Resealable Plastic bag
15 kg Plastic bag
Palletizing
2 kg: 30 Shrink-wrapped bundle with 6 bags = 360 kg 15 kg: 24 bags = 360 kg
EAN codes
Ean 2kg: 8011789608426
Ean 15 kg: 8011789608433
---