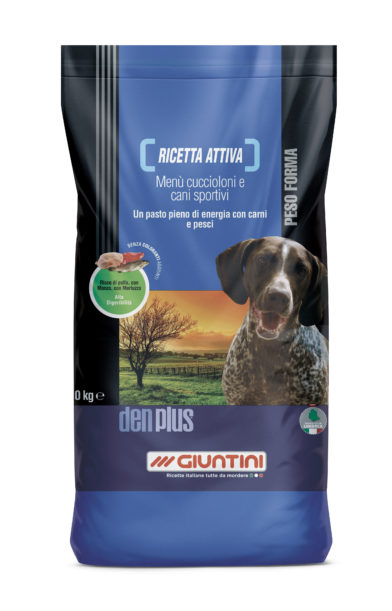 Den Plus
Complete food for dog
DEN PLUS "Active recipe" is a complete highenergy food that is recommended both for the second phase of puppy growth (from 6 months upwards) and to satisfy the nutritional needs of dogs that are always on the move (active dogs).
DEN PLUS is rich in chicken and also contains beef and cod. This cod helps to balance the right amount of omega 3 fatty acids and the whole linseed and soybean seeds help to balance the omega 6 fatty acids in the diet. In addition, the lucerne meal helps to support good fibre levels and is a source of betacarotene (a natural precursor of vitamin A). High quality standards are always met in the selection and constant monitoring of all the ingredients. DEN PLUS does not contain colouring agents. Please follow the daily recommended servings to keep your four-legged friend at the ideal weight.
Feeding instructions
Can be served dry or mixed with liquid (preferibly tiepid). Remember to leave plenty of fresh water available in a separate dish.
Calculate the recommended daily intake
Calculate the recommended daily intake for your dog, it is fast and easy.
Composition
Cereals, Meat and animal derivatives (Chicken min. 14%, beef min. 8%), Derivatives of vegetable origin (Dehydrated alfalfa min. 1%), Oils and fats, Fish and fish derivatives (cod min. 1%), Seeds (linseeds and soybean seeds min. 2%), Minerals.
Analytical constituents
Crude protein: 26,0%; Crude fat: 15,0%; Crude fibres: 3,0%; Crude ash: 8,5%.
Nutritional additives
Vitamin A: 15.000 I.E./kg; Vitamin D3: 1.100 I.E./kg; Vitamin E: 100 mg/kg; 3b201 Iodine: 0,8 mg/kg; 3b606 Zinc: 20 mg/kg.
Technological additives
Preservatives, Antioxidants.
Available sizes
10 kg fresh pack bags
Paper bag da 20 kg

Palletizing
10 kg: 35 bags = 350 kg
20 kg: 18 bags = 360 kg

EAN codes
Codice EAN 10 kg: 8011789500508
Codice EAN 20 kg: 8011789500522
---