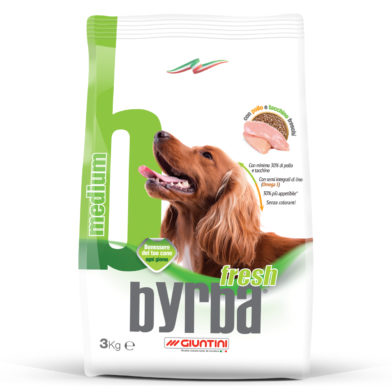 Byrba Fresh Medium
Complete food
for adult dogs, medium breed
From Byrba experience was born Byrba Fresh Medium: the evolution of an historic Giuntini's product for medium breed dogs.
Only carefully choosed raw materials as chicken and turkey fresh meat take place in a new recipe Byrba Fresh Medium to give to your best friend a complete and balanced meal, enriched by whole flax seeds, natural source of Omega 3.
Thanks to his balanced count of fibre, Byrba Fresh Mini helps an easy digestion for a daily wellness of you dog. It is without colouring agents but 30% more palatable.
Feeding instructions
This food is formulated for feeding dry, with plenty of fresh clean water provided separately.
Calculate the recommended daily intake
Calculate the recommended daily intake for your dog, it is fast and easy.
Composition
Cereals, Meat and animal derivatives (Chicken and Turkey min. 30% of which 4% fresh meat), Derivatives of vegetable origin, Oils and fats, Seeds (linseeds min. 1%), Vegetable protein extracts, Minerals.
Analytical constituents
Crude protein: 28,0%; Crude fat: 12,0%; Crude fibres: 2,5%; Crude ash: 7,3%; Fatty acids: Omega 3: min. 0,6%.


Nutritional additives
Vitamin A: 16000 I.E./kg; Vitamin D3: 1000 U.I./ Kg; Vitamin E: 300 I.E./kg; E1 Iron 35 mg/Kg; 3b201 Iodine: 0,5 mg/Kg; E4 Copper: 7,5 mg/Kg; 3b502 Manganese: 35 mg/Kg; 3b606 Zinc: 27,5 mg/Kg; E8 Selenium: 0,05 mg/ Kg.
Technological additives
Antioxidants, Preservatives.
Available sizes
3 kg and 12 kg plastic bag

Palletizing
3 kg: 30 shrink-wrapped bundle with 4 bags = 360 kg
12 kg: 28 bags = 336 kg


EAN codes
EAN 3 kg: 8011789607139
EAN 12 kg: 8011789607146
---