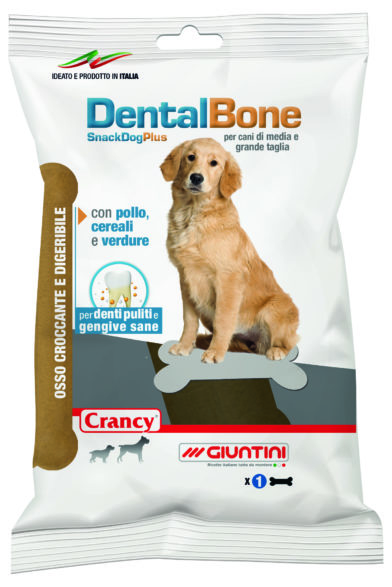 Crancy Dental Bone
Complementary food
for medium and large breed of dogs
Crancy SnackBone is a complementary food for Medium-Large breed of dogs.
All dogs need to chew dry snacks to help them have strong, healthy teeth.
At the end of a run or after exercise Crancy Snackbone are the correct reward for your dog.
Feeding instructions
Remember to leave plenty of fresh water available in a separate dish.
Bentonite help the cleaning of teeth for its abrasive capacity and intestinal balance thanks to the cation exchange capacity.
Recommended daily intake
1 bone per day in addition to the daily meal.
Crancy Snackbone cannot replace a complete food for your dog.
Composition
Cereals, Meat and animal derivatives (dehydrated Chicken meat and hydrolyzate chicken 5%, Gelatine 2%), Derivatives of vegetable origin (Crude fibre concentrate from natural lignocellulose 7%), Minerals, Oils and fats, Vegetables (infra red micronised peas 3%), Yeasts.
Analytical constituents
Moist: 16,0%; Crude protein: 19,0%; Crude fat: 3,0%; Crude fibres: 6,0%; Crude ash: 10,0%; Calcium: 0,9%; Phosphorus: 0,4%.
Nutritional additives
Vitamin A: 1.400 I.E./kg; Vitamin D3: 90 I.E./kg; Vitamin E: 28 mg/kg; 3b101 Iron: 683 mg/kg; 3b201 Iodine: 0,05 mg/kg; E4 Copper: 0,7 mg/kg; 3b502 Manganese: 3 mg/kg; 3b606 Zinc: 2,5 mg/kg.
Technological additives
Antioxidants, Preservatives, 1m558i Bentonite: 6%.
Available sizes
100 gr pack
Palletizing
100 boxes with 12 pieces = 120 kg
EAN codes
EAN: 8011789607115
---