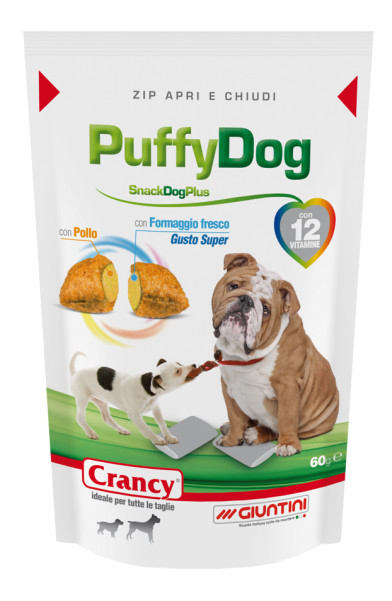 Crancy Puffy Dog with chicken and fresh cheese
Complementary Food
for adult dogs
Puffy Dog is a tasty and nutritious snack. A crispy outer shell with chicken, and a fresh cheese filling. A perfect choice for both tastiness and functionality. Fortified with 12 vitamins for your dog's health and wellbeing. A carefully selected source of insoluble fibre helps to promote optimal oral hygiene.
Feeding instructions
Puffy Dog can be given at any time during the day. Always allow access to fresh clean water.

Crancy PuffyDog cannot replace a complete food for your dog.




Recommended daily intake
up to 10 to 40 treats, depending on the size and breed of your dog (up to 10 treats for small dogs; up to 40 treats for large dogs).
Composition
Cereals, Meat and animal derivatives (Chicken min. 20%), Oils and fats, Derivatives of vegetable origin (Crude fibre concentrate from natural lignocellulose 1,5%), Milk and milk derivatives (fresh cheese min. 1%), Minerals.
Analytical constituents
Crude protein: 23,0%; Crude fat: 13,0%; Crude fibres: 3,0%; Crude ash: 6,0%.


Nutritional additives
Vitamin A: 6.500 I.E./kg; Vitamin D3: 500 I.E./kg; Vitamin E: 60 mg/kg; Vitamin C: 20 mg/kg; Vitamin B1: 2,1 mg/kg; Vitamin B2: 2,4 mg/kg; Vitamin B6: 1,5 mg/kg; Vitamin B12: 0,03 mg/kg; Biotin: 0,03 mg/kg; Niacin: 10 mg/kg; Calcium D-Panthotenate: 4,6 mg/kg; Folic Acid: 0,7 mg/kg.



Technological additives
Antioxidants, Preservatives.


Sensory additives
Colourants.
Available sizes
60 gr re-sealable bag
Palletizing
60 gr: 168 carton with 8 pieces = 81 kg
EAN codes
8011789802206
---