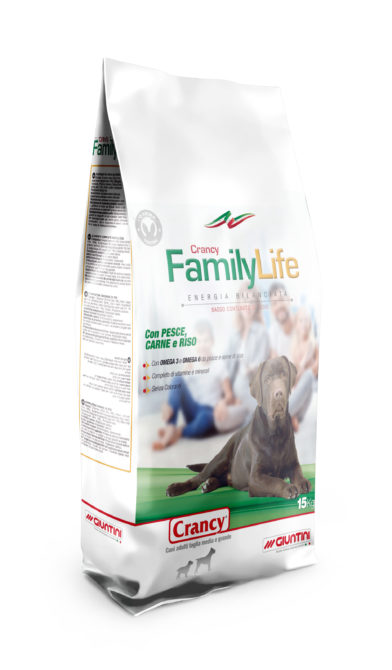 Crancy Family Life
Complete food for dog
Crancy Family Life is a balanced and complete meal suitable for the maintenance of adult dogs.
It is a high efficiency food, with a low sodium content, formulated for the specific needs of dogs that live indoors with little energetic activity. It provides proteins derived from meat and fish, vitamins, minerals and cereals like rice, corn and wheat which deliver the correct amount of fibre essential for the wellbeing of the digestive system.
Feeding instructions
This food is formulated for feeding dry. Remember to always leave a bowl of fresh, clean water available for your pet.
Calculate the recommended daily intake
Calculate the recommended daily intake for your dog, it is fast and easy.
Composition
Cereals (rice min 4%), Meat and animal derivatives (min. 16%), Derivatives of vegetable origin, Oils and fats, Seeds (Whole soya beans min.1%), Fish and fish derivatives (min. 1%), Minerals.
Analytical constituents
Crude protein: 26%; Crude fat: 12%; Crude fibres: 3%; Crude ash: 7,9%; Calcium: 1,6%; Phosphorus: 1,1%; Sodium: 0,3%; Fat acids (Omega 6: 3,4%; Omega 3: 0,5%).
Nutritional additives
Vitamin A: 10.000 I.E./kg, Vitamin D3: 1.000 I.E./kg, Vitamin E: 100 mg/Kg, Vitamin B1: 3 mg/Kg, Vitamin B2: 4,5 mg/Kg, Vitamin B6: 2,1 mg/Kg, Vitamin B12: 0,03 mg/Kg, Biotin: 0,02 mg/Kg, Niacin: 18 mg/Kg, Calcium D-Panthotenate: 11 mg/Kg, Folic Acid: 1,7 mg/Kg, 3b201 Iodine: 0,8 mg/Kg, 3b606 Zinc: 20 mg/Kg.
Technological additives
Preservatives, Antioxidants
Available sizes
15 kg paper bag
Palletizing
15 kg: 24 bags = 360 kg
EAN codes
8011789606354
---