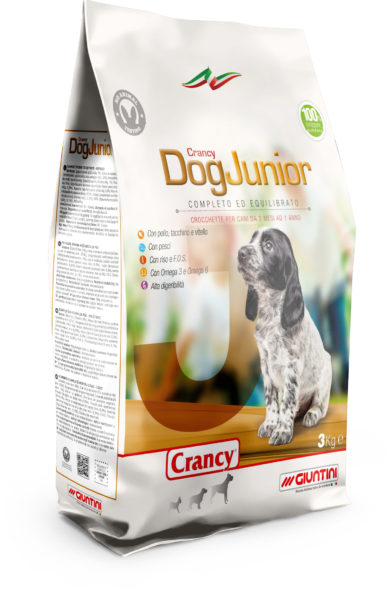 Crancy Dog Junior
Complete food for puppy
Crancy Dog Junior is a complete and balanced food for weaning puppies of all breeds, from the age of two months to a year old.
It contains high quality selected ingredients as veal, chicken and turkey meats, fish and cereals to provides puppies with the right amount of energy, proteins , fats, vitamins and minerals. Yeasts and F.O.S. guarantee the good functioning of intestinal bacterial flora and good digestion. The recipe is enriched with linseeds and soybean seeds that deliver fatty aciids Omega 3 and Omega 6 for a shiny coat and healthy skin. Crancy Dog Junior ensures an harmonious growth of your puppy and it is also ideal for bitches producing milk.
Calculate the recommended daily intake
Calculate the recommended daily intake for your dog, it is fast and easy.
Composition
Cereals (rice min. 5%), Meat and animal derivatives (Chicken, Turkey and veal min. 22%), Derivatives of vegetable origin (Dehydrated lucerne min. 1%), Oils and fats, Vegetable protein extracts, Yeasts (brewer's yeast min. 0,5%), Fruits (Dehydrated apple min. 0,5%), Fish and fish derivatives (min. 0,3%), Seeds (whole linseeds and soybeans seeds min. 0,3%), F.O.S. (fructooligosaccharides), Minerals.
Analytical constituents
Crude protein: 30,0%; Crude fat: 14,0%; Crude fibres: 2,6%; Crude ash: 7,6%; Calcium: 1,3%; Phosphorus: 1%; Sodium: 0,3%; Fat acids (Omega 3: 0,45% ; Omega 6: 2,8%).
Nutritional additives
Vitamin A: 20.000 I.E./kg; Vitamin D3: 1.200 I.E./kg; Vitamin E: 120 mg/kg; Vitamin C: 70 mg/kg; Vitamin B1: 3,8 mg/kg; Vitamin B2: 5,3 mg/kg; Vitamin B6: 2,5 mg/kg; Vitamin B12: 0,04 mg/kg; Biotin: 0,03 mg/kg; Niacin: 25 mg/kg; Calcium D-Panthotenate: 14 mg/kg; Folic Acid: 1,9 mg/kg; Choline Chloride: 1500 mg/kg; 3b101 Iron: 52 mg/kg; 3b201 Iodine: 0,8 mg/kg; E4 Copper: 11 mg/ kg; 3b502 Manganese: 52 mg/kg; 3b606 Zinc: 61 mg/kg; E8 Selenium: 0,08 mg/kg.
Technological additives
Antioxidants.
Available sizes
3kg fresh pack bags
10kg fresh pack bags
Palletizing
3 kg: 30 Shrink-wrapped bundle with 4 bags = 360 kg 10 kg: 35 bags = 350 kg
EAN codes
Codice EAN 3 kg: 8011789505558
Codice EAN 10 kg: 8011789505572
---