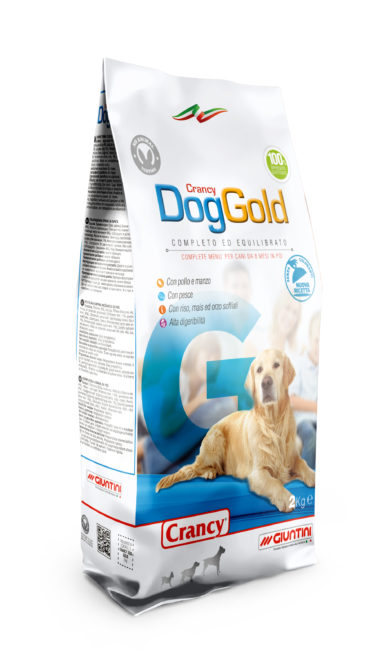 Crancy Dog Gold
Complete food for dog
Crancy Gold Complete Menù is a complete food that is specifically for the maintenance of any breed of dog.
Crancy Gold offers the correct mix of proteins, made up of amino-acids essential for development and growth after the age of eight months, of fats that supply a perfect balance of saturated, mono and polyunsaturated fatty acids, of easily digestible carbohydrates, of vitamins and oligo-elements. Crancy Gold is also suitable for bitches during lactation and can be used for dogs requiring a low sodium diet.
Feeding instructions
Can be served dry or mixed with liquid (preferably tepid). Remember to always leave a bowl of fresh, clean water available for your pet.
Calculate the recommended daily intake
Calculate the recommended daily intake for your dog, it is fast and easy.
Composition
Cereals (puffed rice, corn and barley min. 4%), Meat and animal derivatives (beef min. 11%, Chicken min. 6%), Derivatives of vegetable origin, Seeds (whole soybean seed min. 1%; whole linseed min. 1%), Vegetable protein extracts, Oils and fats, Fish and fish derivatives (min. 4% in the croquettes with Fish), Vegetables, Yeasts, Minerals.
Analytical constituents
Crude protein: 24,0%; Crude fat: 10,0%; Crude fibres: 2,7%; Crude ash: 8,0%; Sodium: 0,25%; Fat acids (Omega 3: 0,4% ; Omega 6: 2,8%).
Nutritional additives
Vitamin A: 12.000 I.E./kg; Vitamin D3: 1.000 I.E./kg; Vitamin E: 110 mg/kg; 3b201 Iodine: 0,7 mg/kg; 3b606 Zinc: 19 mg/kg.
Technological additives
Preservatives, Antioxidants.
Sensory additives
Colourants.
Available sizes
2 kg Plastic bag
7,5 kg Plastic bag
15 kg Plastic bag
Palletizing
2 kg: 24 Shrink-wrapped bundle with
6 bags = 288 kg
7,5 kg: 48 bags = 360 kg
15 kg: 24 bags = 360 kg
EAN codes
Codice EAN 2kg: 8011789606316
Codice EAN 7,5 kg: 8011789606057
Codice EAN 15 kg: 8011789606743
---