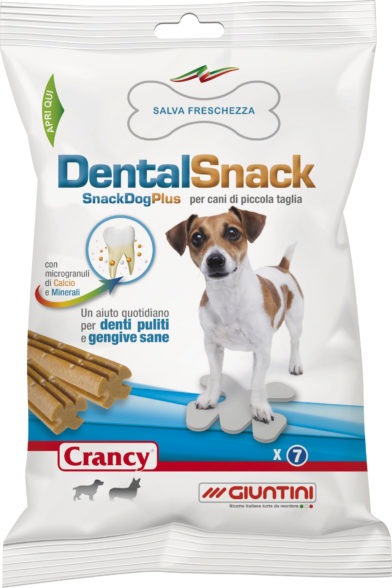 Crancy Dental Snack for small dogs
Complementary food
for small dogs
Crancy Dental Snack is a complementary food that you can use as a treat for your dog.
Thanks to calcium micro-granules and minerals it performs an abrasive action which prevents the accumulation of dental tartar and keep clean teeth and healthy gums. Bentonite help the cleaning of teeth for its abrasive capacity and intestinal balance thanks to the cation exchange capacity.
Feeding instructions
Crancy Dental Snack cannot replace a complete food for your dog. Always leave the dog a bowl of fresh, clean water. It should be avoided the simultaneous use orally with macrolides.

Recommended daily intake
Small ( < 10 kg) 1/2 dental snack
Medium ( 10 - 30 kg) 1 dental snack

Composition
Cereals, Derivatives of vegetable origin, Meat and animal derivatives, Oils and fats, Minerals, Sugars.
Analytical constituents
Moisture: 16%; Crude protein: 15,4%; Crude fat: 3%; Crude fibres: 0,8%; Crude ash: 5,8%; Calcium 1,6%.
Nutritional additives
3b101 Iron: 680 mg/kg.
Technological additives
Preservatives, 1m558i Bentonite 15.000 mg/kg.
Sensory additives
Colourants.
Available sizes
110 g sealable bag

Palletizing
100 carton with 25 pieces = 275 kg
EAN codes
EAN: 8011789607092
---