Nutrition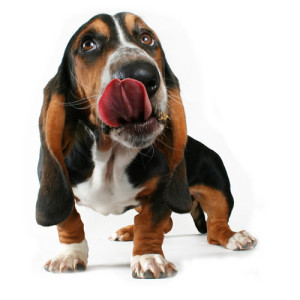 Diet is fundamental for our four-legged friends.  It ensures correct nourishment for cats and dogs, meaning they can grow and develop in the healthiest way, providing them with the essential foundations for a healthy life.
Our philosophy is "prevention is better than cure", and for this reason our products contain all the nutrients needed to provide our animal friends with the best nutrition.
As with humans, the diets of dogs and cats require a careful equilibrium between the various elements and nutrients.
Fats and oils: daily energy
Running, jumping, playing: the lives of our four-legged friends demand a lot of energy. This is where the correct balance of fats is important: they provide an important proportion of the required calorie intake, needed to confront the day ahead with vigour.
Not only are fats important for metabolic function, but also structurally. Fats have an integral role in promoting healthy cell function, protecting body organs against shock and trauma, maintaining body temperature, and sustaining healthy skin and hair.
Among the most important fats are the essential fatty acids, such as omega 3 and omega 6, as these cannot be produced by the animal's body. These essential fatty acids are fundamental in the production of hormone-like substances and anti-inflammatory agents, and are crucial for cell health and functionality, along with enhancing the efficiency of the nervous system.
Vitamins: the "guardians" of wellbeing
Vitamins, along with several minerals, are an essential part of dog and cat diets, despite only being needed in very small quantities.
There are many vitamins, with a wide range of metabolic functions. Vitamins can be split into two main categories: fat soluble: A, D, E and K; and water soluble: B-complex vitamins and vitamin C.
Generally, the fat soluble vitamins have functions in the development and maintenance of cells and tissue, for example vision, bone growth, reproduction, tissue integrity and blood clotting. Water soluble vitamins are generally involved in enzymatic function and control metabolism, strengthen the immune system, aid correct DNA synthesis, and promote gut bacteria.
Carbohydrates: muscle strength
Carbohydrates are difficult to categorise but include sugars, starches, glycogen and cellulose.
Carbohydrates are molecules, simple or complex, that are necessary to ensure balanced energy supply, energy storage and efficient muscle function.
In addition, cellulose and other non-soluble indigestible carbohydrates are indispensable for gastrointestinal health.
Minerals: the building blocks of health
Strong and healthy teeth, good bone structure, and healthy muscles and body tissue: a key foundation for physical and metabolic health is a balanced daily supply of minerals.
Calcium, phosphorus, magnesium, sulphur, iron, copper, zinc, and many others: these elements are essential for the proper functioning of metabolism, regulation of salt and water, reproduction, and the correct synthesis of the various hormones and enzymes within the body.
Since excesses of many of these elements cannot be efficiently stored within the body it is of great importance that the correct amounts are given daily, especially in puppies and pregnant females.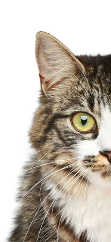 Let's look at an example together
Sushi is a sweet and very affectionate cat.
He likes to relax at home in front of the fire.
Sushi is 6 years old (adult), sterilised,
and weighs 10kg (overweight).
Giuntini would recommend Pro Sterilised Cat for Sushi
Click here for more product details
Pro Sterilized cat
A 60g portion of Pro Sterilised Cat contains approximately 70% of the daily protein requirement.
The recommended portion size of 70-90g for an adult cats supplies the optimal protein to meet requirements.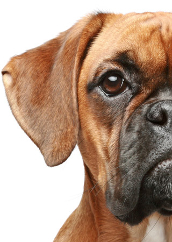 Let's look at an example together
Byron is an active and very playful dog.
He likes to run in the park and play Frisbee.
Byron is 4 years old (adult) and
weighs 30kg (the average weight for his breed).

Giuntini would recommend Pro Lamb and Rice for Byron.
Click here for more product details
Pro Lamb and Rice
A 100g portion contains approximately 25% of the daily protein requirement.
The recommended portion size of 400g for an adult dog of large breed supplies the optimal protein to meet requirements.