Our Certification
For us, to be exceptional is natural. Respecting quality standards is obligatory, but for us it is not enough. Out commitment is to go even further.
We choose to follow the standard guidelines because we embrace with enthusiasm the duty of continuous improvement within Giuntini. Our numerous certificates of quality that we have obtained are testimony to this commitment.
However, we don't stop here. Our aim is to go above and beyond the obligatory requirements. We also have an environmental strategy, limiting any form of emissions.
For more information about our Integrated Policy download the complete PDF file by clicking Here. (italian version)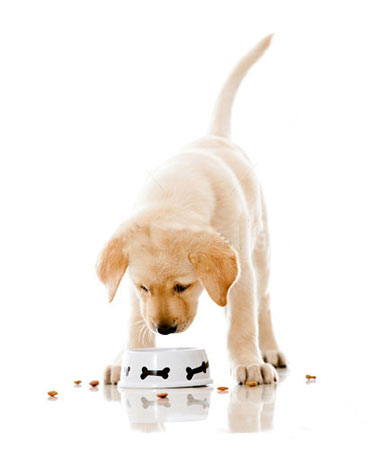 ---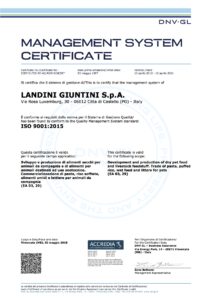 Certification process
Our quality management system is based on standards set by UNI EN ISO 9001: 2015 to ensure uniformity of our feed, by monitoring every stage of the production system. The quality of ingredients, and the strict adoption of the standards set, are critical to the success of the finished product; these processes are crucial, not only for identifying the materials and products to remove, but also for suggesting to our suppliers any small changes that should be made in their selection processes and conservation of raw materials. 

By following this strict process, we are able to guarantee a continuous improvement plan, dedicated to complete customer satisfaction, with measurable objectives and fully verifiable.
---
IFS Certification (International Food Standard)
We are certified for IFS Food Standard, recognized both in Europe and Worldwide. This standard assures compliance with all the requirements for safety and hygiene of our products, based on HACCP and a 360° operating review of work environments, products, processes and personnel.
We offer a strong and tangible solution to those looking for a serious and reliable partner, and who wish to collaborate with professionals of enthusiasm and good taste, but most importantly, advocates of health and quality.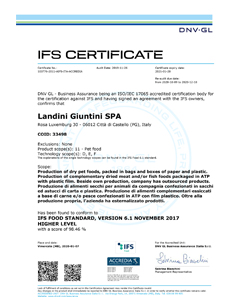 ---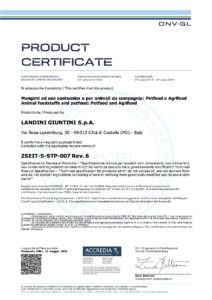 Non GM Certification
Our products are certified in relation to the "non-use of raw materials containing, consisting of, or derived from genetically modified soya and maize."
We guarantee every product manufactured by our company is non-GM.
We respect nature and the authenticity of its ingredients, we protect the genetic heritage and the real beauty of our surroundings, bringing the best of traditional Italian cuisine to the bowls of our four-legged friends.